We are looking forward to seeing you.
As we open our doors we want you to know we are taking every precaution necessary to ensure the health of our clients and staff. To follow state regulations and ensure the health of all artists and guests it's important to make sure we can answer "NO" to following 4 questions in order to enter the lounge.
1. Have you had any of the following symptoms in the last 48 hours and NOT been evaluated by a health care professional?
(a.) New onset fever   (b.) Persistent Cough   (c.) Shortness of breath   (d.) Diarrhea    (e.) Loss of taste or smell
2. In the last 7 days have you had close contact with a person who tested positive or presumed positive by a doctor and is not past their 14 day quarantine and no longer showing symptoms?
3. Do you currently have a temperature above 99?
4. Have you traveled outside of Utah such that you would need to self quarantine as mandated by the state of Utah?
If you are able to answer "No" to all of the questions stated above we CANNOT WAIT to see you!! To any of you that answered "yes" we can't wait to see you once you're healthy! Please make sure you are wearing a mask to enter our building at your scheduled appointment time as per state regulations and staying 6 feet apart from everyone other than your artist. We do not have a waiting room available at this time so please stay in your car until you receive a text from your artist letting you know they're ready for you! Thanks again for your business and support at this time. We are taking every precaution possible. Your health is of upmost important to us.
We love you and we can't wait to see you soon!
YOUR EXCLUSIVE
Curly Hair Experts
In Salt Lake City
Ebony & Ivory Hair Salon is a natural hair studio that specializes in Natural Hair Care, Relaxed Hair, Curly Hair, Pressed Hair, Box Braids & Hair Weaves.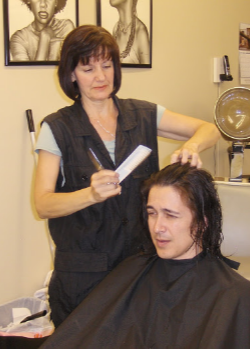 Trudy Chlepas
Owner & Stylist - I graduated beauty school in 1976. I am a licensed instructor. I managed the International Institute of Hair Design, Bountiful Campus. I am the Co-Owner and an Instructor at Cove Point University of Hair Design. I have owned and managed Ebony & Ivory Hair Design since 1984. I specialize in: thermal hair straightening and styling, chemical hair relaxing, hair cutting, hair coloring and permanent waving.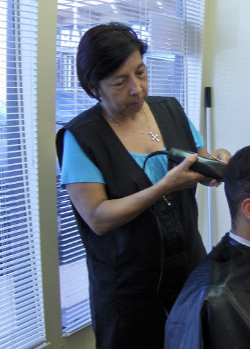 Norma Zizumbo
Stylist - I graduated from Cove Point University in 1985 and started working at Ebony & Ivory in 1986. I specialize in ethnic hair, curls, short hair cuts, hair weaving, relaxers, color and highlights, thermal hair straightening and styling. I love to work with kids as well.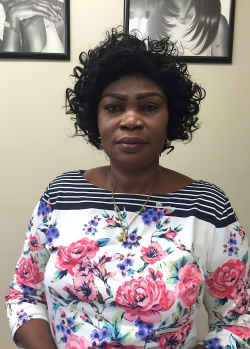 Yunia Jada
Stylist - I am from Southern Sudan. I have been in the United States for 14 years, and have been doing hair since I was 15 years old. I attended Salt Lake Community College, and obtained my license in cosmetology and barbering in 2014. I specialize in Ethnic Hair, Box Braids, Senegalese Twists, Kinky Twists, Yarn Twists, Corn Rows, Dread Locks, Dread Lock Extensions, Goddess Braids, Tree Braids and Weaves. I have done allot of Hair Weaving for African American, Caucasian and Hispanic Hair. I also do Relaxers, Color and Haircut's.
WE ACCEPT CASH AND VENMO PAYMENTS
CONSULTATION APPOINTMENTS REQUIRED ON ALL BRAIDING, HAIR WEAVING, AND EXTENSIONS. WE RESPECT YOUR TIME. CALL US FOR AN APPOINTMENT. WE PRIDE OUR BUSINESS ON ONE APPOINTMENT AT A TIME, SO WE CAN GIVE YOU THE BEST QUALITY SERVICE YOU DESERVE.